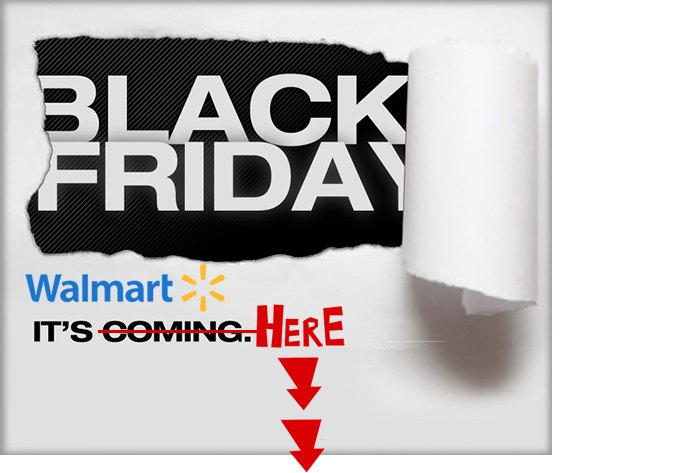 2013:
Updated November 12, 2013:  Walmart's official Black Friday ads are posted at Walmart.com.  There are 42 pages in total.  Just keep in mind that different deals start at different times – Some are only live from 6:00pm to 8:00pm on Thursday, others start at 8:00pm on Thursday, while others will go through the weekend until Cyber Monday. All deals are available while supplies last so be sure to be quick if shopping in-store or online.

Here is the full mailer:
2012:
In 2012, we saw their doors open earlier than ever, already at 8:00pm on Thanksgiving day. But not all the deals were released at the same time as different offers were released at different times throughout the day.  Unless you want to spend your entire Black Friday in Walmart, be sure to plan out the deals you don't want to miss.
Stores Opening: 8:00pm on Thanksgiving day (for toys, apparel, home goods), 10:00pm (electronics) and 5:00am Friday for everything else (including jewelry, tires, etc.).
Online Deals: Starting Thanksgiving week through Cyber Monday here on their deals page at

Walmart.com

.
See below for the complete mailer for 2012.
Page 23: